---
Questions About Tandem Classified Ads
Who runs the TandemClassifieds.com website?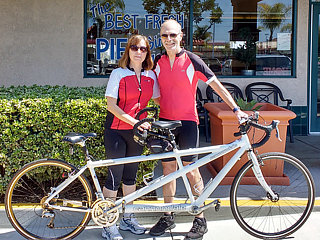 Mike and his wife are avid tandem riders, and Mike runs the website as a hobby. Mike also loves riding his solo bike, and he is a member of the Orange County Bicycle Coalition board of directors. He has been developing websites for over 20 years.
How can I contact you?
Please scroll to the bottom of this page and read the website Terms and Condtions. If you click the "Accept" button, my email address will be displayed.
How do I place an ad?
Just visit the How to Place an Ad page and follow the directions. Please be sure to send an "Ad ID" photo along with your ad request.
How much do ads cost?
Ads for tandem bikes, accessories and components are free. "Want-to-buy" ads for those items are also free. Optional donations help to pay for website server, registration and certification expenses, along with very occasional treats to thank my wife for tolerating all of the work I put into this website :-)
If you have a product or service for tandem bicycle enthusiasts, please consider consider placing a paid ad on this website. My rates are very reasonable. Please contact me using the email address shown at the bottom of the How to Place an Ad page.
Why is there a [Missing Text] in sellers' email addresses?
To reduce the amount of junk email that sellers might receive, potential buyers must solve a puzzle to decipher the seller's email address. The logic is that anyone who is sincerely interested in a bike won't mind solving the puzzle, but spammers won't bother. Feedback is appreciated.
How can I be sure that a sale will go through without any trouble?
Unfortunately, I cannot make any guarantees. Please read the website terms and conditions carefully before placing an ad or contacting a seller. However, I do believe that if you are careful this website can be a great way to sell your bike or find a bike that you want to buy. Here are some ideas to improve your chances of a smooth transaction:
Consider payment methods with buyer and seller protections, such as PayPal® or Escrow.com©.
Consider using an escrow service or asking an established bike shop to act as an intermediary.
You may want to avoid buyers or sellers who suggest payment by wire transfer, money order or certified check.
Here are some characteristics that may be displayed by fraudulent buyers or sellers. Thanks to James W for the tips!
Poor use of English in communications
Little interest in details about the bike itself
No attempt to negotiate the price
Little or no knowledge of tandem bikes
No mention of where they live or why they want to buy or sell a tandem bike
To Send an Email, Please Review the Terms and Conditions Below
By accessing this website and/or placing an ad on this website and/or selling or buying a product displayed on this website, you agree that no one associated with the TandemClassifieds.com website is responsible for the accuracy of the descriptions, the usefulness of the items or the success of the sale of any product displayed on this website. The descriptions and usefulness of the items on this website are strictly the responsibility of the person who provided the descriptions. The success of the sale of any product displayed on this website is strictly the responsibility of the seller and the buyer. Both are cautioned to carefully verify the legitimacy of any potential sale. No one associated with the TandemClassifieds.com website verifies the product descriptions or the legitimacy of any buyer or seller.
---